I absolutely luuurve Tex-Mex Food, the flavors seem somehow similar to our spicy Indian palette yet different because of their use of sour cream and guacamole and salsa...
Its same-same yet different... and thats the fun of it!
And this recipe is another one of my favorite crowd pleasers- easy to assemble and cook and deliciously melt in your mouth-cheesy.
And whats not to love about the taste of hot melting cheese mixed with spicy chicken and creamy sour cream?
And as I had a bit of a problem getting the pronunciation right in the beginning- here is a little help for those of you who want to know: Quesadillas- Cay-suh-dee-yuh
Now the recipe given below uses uncooked chicken (because thats what I used), but you can also use any left over chicken that you might have- a skinless-rotisserie chicken or a roasted tandoori chicken...
But it should be spiced up a little...
Bland chicken is no fun in a Mexican cuisine.
CHICKEN QUESADILLAS:
(makes 16 pieces)
Ingr:
2 Chicken breast pieces cut in long strips
2 tbsp oil
1.5 tbsp Taco mix* (store bought or home-made)
1 green or red bell pepper chopped in strips
1 onion chopped long
1.5 cup grated cheese- preferably cheddar cheese or any other that's handy and melts.
1 cup thinly sliced carrot and cucumber
8 tortillas or lightly cooked whole wheat rotis(made of dough mixed with a bit of oil)
2-3 tbsp butter
1 cup sour cream
1 cup salsa
Method:
1- Take the chicken strips in a bowl and add 1 tbsp of Taco mix, coat it thoroughly.
2- Heat oil in a non stick pan and add the chicken. Cook for 5-10 minutes till its cooked through but not burnt.
3- Remove the chicken and add a little sprinkle of oil in the same pan.
4- Saute onions in the oil till they become soft and change color.
5- Add the bell peppers, remaining Taco mix and stir-fry for 2-3 minutes on high heat.
6- Now add the chicken to the onions and bell peppers and cook for another minute or so.
Assembling:
1- Take a tortilla or a semi cooked roti- lay it flat on a plate.
2- Add the chicken mix to one half of the tortilla
3- Lay on a bit of the carrot and cucumber salad
4- sprinkle the grated cheese generously
5- Now fold over the other half of the tortilla over the mixture, to form a half moon
6- Repeat the process with the other tortillas.
7- Take a grill pan, grease it lightly with a cooking spray or a dab of butter and cook these quesadillas on medium heat (pressing slightly so the cheese melts) till golden brown on both sides.
TIP: if you dont have a grill pan, you can cook these Quesadillas on a normal pan or even a grill panini maker (sandwich maker)
8- Cut the moon shape quesadillas into further halves and serve with a blob of delicious sour cream and salsa.
*Recipe for Home-made Taco Mix
1tbsp chilli powder
1/4 tsp garlic powder
1/4 tsp onion powder
1/4 tsp chilli flakes
1.5 tsp cumin
1/2 tsp paprika
1/4 tsp dry oregano
1/2 tsp salt
1 tsp black pepper
Mix all the ingredients and store in an airtight container to use as when required.
Even good for roasting meat (as a rub)
Nominated for the Top Post on Indiblogger!!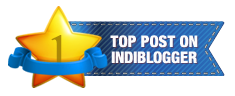 for another Mexican dish: Chicken and Mushroom sour cream Enchiladas (click
here
)
or more food options in yummy cakes, good looking and delicious main dishes etc. click
here